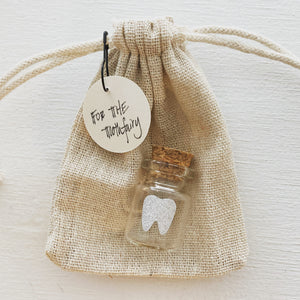 Take some of the scramble out of tooth fairy duty with this handy Tooth Fairy Kit.

How it works: Just place the cleaned tooth in the jar, slide it into the draw string bag, place under pillow and voila! You now have something easy for the tooth fairy to fish out from under that sweet, sleeping child without waking them. Just empty the jar, put the goods in the bag and you're all set!
What is included:
1 Sparkling tooth jar
1 cotton drawstring bag
2 hang tags, one marked "For the Tooth Fairy" one left blank for the child's name (on the return journey!)
Please note: the jar is made of glass, so use with caution.